Entirely surrounded by trees and bushes, invisible from the road, our Cascina Cliternia is a real corner of paradise. Hills, vineyards, cultivated fields and in the background the crystal clear sea with the Tremiti Islands. Immersed in a plot of land of 16 hectares of our property, you will be amazed by the peace and harmony that you can breathe here, staying for both short and long periods.

Full apartment with entrance and large private garden

Hospitality for 4/5 people

1 double bed
3 single beds

Indoor kitchen
Wood-oven and barbecue outside
Min 80 euros/night
Max 170 euros/night

Our rates for the apartment go from 80 euros per night in low season to a maximum of 170 euros per night.
Prices can vary depending on:
- the season
- residence time
- number of guests.

Check the calendar for detailed prices and availability.
3 towels per guest
llinen with weekly change
use of bicycles
wifi
water consumption, electricity, gas
end of stay cleaning
Use of the washing machine ( 5 euros per washing)
Use of a wood oven or barbecue prior arrangement (free)
Additional change of sheets and towels by agreement (free)
Additional cleaning of the apartment during the stay (35 euros)
Relaxing osteopathic treatment
with specialist (duration 1 hour, 40 euros).
A house with a garden, a wood-burning oven and a barbecue
The apartment, renovated in 2015, suitable for up to 5 people is composed of: private entrance, new kitchen complete with fridge, freezer, oven and a delicious fireplace, double bedroom with pleasant views of the private garden (possibility to add a single bed) double room with fireplace, private bathroom complete with all comforts, with large double shower.
At Cascina Cliternia we offer an overnight stay with the possibility of cooking independently. When possible, we like to offer our guests seasonal products and basic condiments of our production, based on availability and time of year.
The exterior of the apartment consists of a main porch, with a table and a living space for the exclusive use of guests, a garden complete with sunbeds and hammocks, children's playground and a wood oven with barbecue. Here we find the pleasure of eating a fruit from a tree, cooking a barbecue outdoors, having breakfast listening to birdsong, admiring the starry sky, meditating in the open countryside.
The apartment is accessible to people with reduced mobility.
At Presso Cascina Cliternia it is forbidden to smoke inside the apartment and pets are not allowed due to the presence of our colony of cats.



Cercavamo un posto per i bimbi, vicino al mare. Abbiamo trovato un'oasi di pace. La casa è circondata da alberi e piante da frutto. Silvia e Fabio sono persone accoglienti e premurose.

The villa was beautifully decorated and had all the conveniences of home in a relaxing family setting. Our children were well catered for. Nature, swings, bicycles and kittens to play with. They were in heaven.

Il vero pezzo forte della villa è l'esterno: un giardino e un portico tutto per gli ospiti al centro di un appezzamento di terreno di ben 16 ettari con ulivi, noci, fichi d'india, campi di grano, e sullo sfondo il mare con le isole Tremiti! Un vero paradiso!

things to see and do outside
1 - The avenue of the olive trees / olives avenue
it is a fascinating route that connects the old state road to Cascina Cliternia. We love our olive trees both for the excellent extra virgin olive oil that we can produce, and for the numerous varieties of birds that find shelter among the branches and cheer our days: goldfinches, nightingales, robins, turtledoves and magpies.
2 - The walnut grove
it is located about fifty meters from the farmhouse and was planted in 2005. Within a few years those small plants have become a real grove(little bush). It produces excellent and abundant fruits that arrive at the table without undergoing any kind of treatment.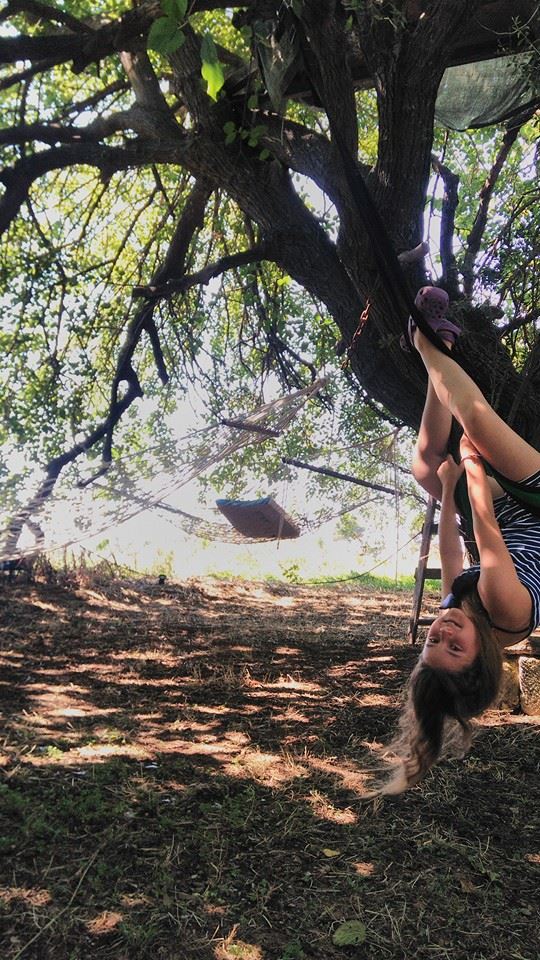 3 - The big mulberry
is the oldest tree, the history of Cascina Cliternia. Its mushroom shape makes it particularly elegant(smart). There is nothing more relaxing than lying in its shade, reading a book and eating the delicious mulberries that the plant produces
4 - The path of the oaks
represents our love for nature. It is located in the north-west side of the Cascina and is born from acorns, oaks and holm oaks, collected in our travels. It is our environmentally sustainable way to create shade, clean air, privacy and to increase trees in a planet that loses so many every day.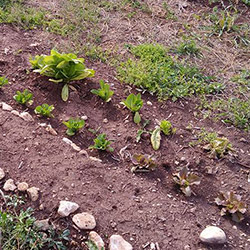 5 - The organic vegetable patch
It is located on the west side, is the fulcrum of delicacies: zucchini, eggplant, tomatoes, beans, peas, are just some of the vegetables that we grow. The garden requires patience and commitment but repays with genuine flavors that we will be happy to taste, according to seasonality.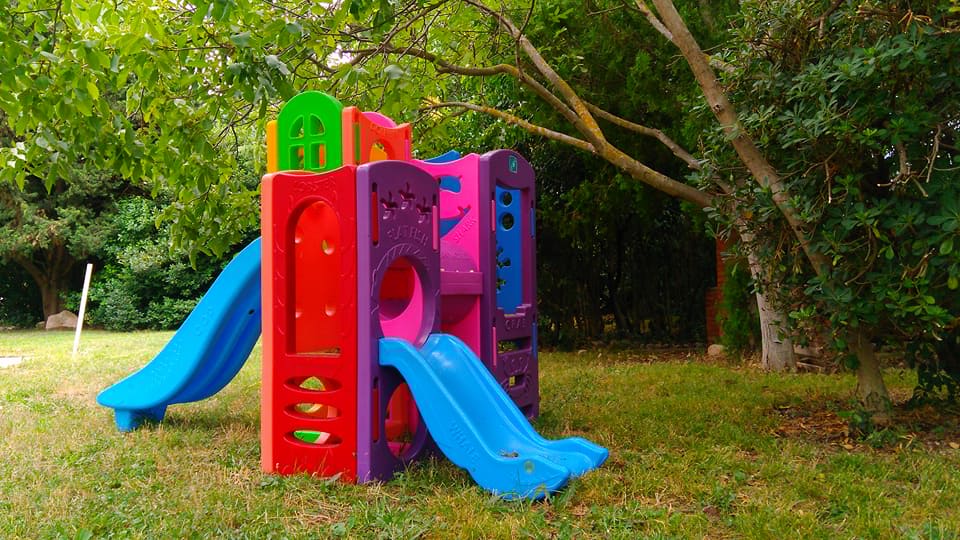 6 - The games corner
It is located in the garden, designed for the fun of children: swings in the trees, garden toys and a trampoline. Children can have fun on a green lawn away from smog and noise. We organize extra activities: educational workshops and bike tours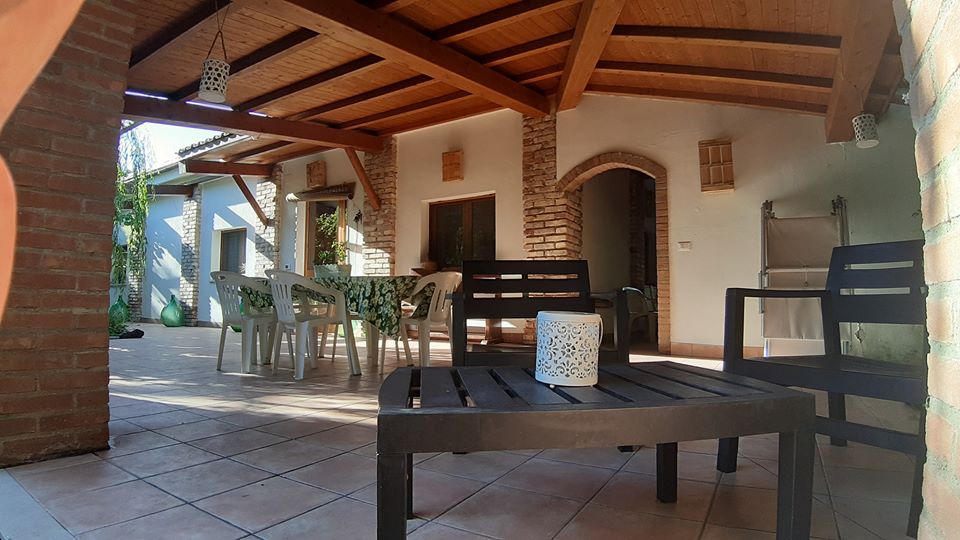 7 - The porch for the exclusive use of guests
it is located outside the apartment. It has a spacious table and a living area, the ideal place for breakfast or dinner, but also for relaxing after a day at the beach or by bike.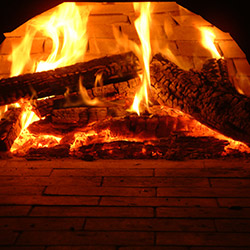 8 - The wood-burning oven with barbecue
it is located under the external porch. We like to make cakes and biscuits, as well as bread, pizzas and many other genuine products. Our guests can use it, by prior arrangement, for barbecues and outdoor evenings.
When there was grandma Assunta
Tutto ha inizio negli anni '60 quando Nonna Assunta decide di comprare alcuni ettari di terra in località Nuova Cliternia, una piccola frazione agricola di Campomarino (CB). La zona, da sempre a vocazione rurale, era già nota per la produzione di vino, olio, cereali e pomodori. Nonna Assunta si dedica con dedizione alla sua piccola azienda agricola, coltivando e curando la campagna.

Negli anni '80 la passione per la campagna è tramandata al figlio di Assunta, Francesco, che con la moglie Fabrizia portano avanti l'attività agricola di famiglia.

Negli anni '90 la cascina diviene luogo di meditazione per lo Zio Frate Leone, un francescano che, apprezzando la pace e la tranquillità del luogo, decide di trasformarla in una comunità religiosa. Oltre alla preghiera, si coltiva l'orto e si prepara il pane nel forno a legna. Frate Leone arricchì l'area con numerose varietà di piante, tutt'oggi presenti. Grazie a lui esistono il boschetto di noci, le siepi di alloro e i numerosi alberi da frutta che circondano la casa.

Oggi Fabio, figlio di Francesco e Fabrizia, porta avanti l'attività agricola, curando la cascina e diversificando le colture. Gestisce la struttura insieme alla sua famiglia: Silvia e Damiano. L'azienda si sviluppa su una superficie di 30 ettari coltivati a cereali, ortaggi e pomodori. Sono presenti un oliveto e numerosi alberi da frutta sui quali non viene effettuato alcun tipo di trattamento fitosanitario, per garantire la genuinità e la purezza dei prodotti.
Do you want
to spend your holidays with us?